Trading Accounts
Learn How to Choose the Best Broker and Open a Trading Account
Choose the best broker
What is a Trading Account?
A Trading Account can be any investment account that holds securities, cash or other holdings typical for a brokerage account. The key point that differentiates a trading account from other investment accounts is the level of trading activity (frequent/daily), the purpose of activity (short-term profit, long term investment etc.) and the risk involved in the activity (usually very risky).
Traders can use trading accounts to buy and sell assets that they will actually own after buying (stocks, shares, etc.); however they can also trade on the price movements of currency pairs, stocks indices, commodities like gold or oil etc., without owning the underlying asset, in which case they need to open a CFD trading account with a broker of their choice.
The Steps to Opening a CFD Trading Account
STEP 1
Choosing the Right Broker
Regulated Vs Unregulated Brokers
Prior to opening a trading account, a trader needs to choose the right broker. This by no means is an easy task, due to the fact online trading has largely evolved as a decentralized and even unregulated activity. This means that many of the brokers you can find operating on the market are actually unregulated, or in other words they operate without a proper license. In such cases, the trader is left completely unprotected if any irregularities happen during the trading sessions. On the other hand, licensing possession is guaranteeing the trader that there is a regulatory institution behind the broker which also means a much higher security. For instance, a trader will be able to report any irregularities and even recover funds they have lost due to brokers' violation of rules and regulations.
How to Check Whether the Broker Is Regulated
It is extremely important that prospecting traders do a proper research on the reputation of the broker before they engage in any further activities like opening a trading account. Having said that, you may first want to check if the broker is regulated by looking for the proof of license possession on their official website which is usually located at the bottom of the homepage. In addition you can also check with the regulatory bodies to confirm that the broker wasn't involved in any unfair or irregular practices.
Services and Trading Conditions
Besides making sure the broker of your choice is regulated, you may also want to examine the services and trading conditions offered. Some brokers may offer very simple services, while others may include more sophisticated trading platforms and additional tools and analytical resources which can help you in making more informative, hence more successful trading decisions.
Trading conditions usually refer to the commissions and other fees a broker will charge for their services. Usually they are taking a small percentage from the difference of your buying and selling prices, yet some may have other ways to impose their fees. Therefore, as these additional expenses may have a significant effect on the profitability of trading, it's crucial for the trader to select the one that will suit him the best.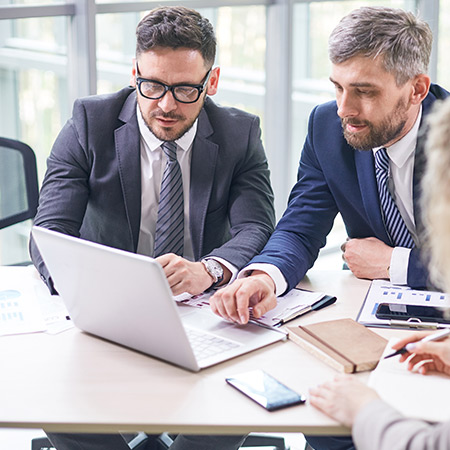 We understand how long, complicated and stressful this process can be for aspiring traders, hence we have created the list of most trusted brokers for which we provided thorough reviews based on both our experts' trading experience with them and thorough research into their history, reputation, services, trading conditions etc.
STEP 2
Choosing the Right Trading Account Type
With brokers offering thousands of assets in different classes, advanced online trading tools, various trading systems and platforms, it does not come as a surprise that they also offer multiple account types. Simply, with various account types, brokers are trying to address and cover different needs of their traders. Naturally, each account type comes with a specific set of tools and advantages you need to trade as comfortably, efficiently and effectively as possible.
But the first and most basic division is to Demo and Live Trading accounts. On demo accounts, users can practice trading in a safe demo environment using an assigned amount of virtual money. These accounts may be great when it comes to learning the system and getting used to broker's execution methods. However, more often than not, the demo accounts cannot depict the live trading accounts experience, as it lacks the emotional factor of decision making provoked by the risk of losing actual money. In addition, these accounts are usually "letting" you win and give you a false sense of accomplishment which drives you to opening a live account and depositing money as soon as possible. Therefore, our main advice is for you to actually start practicing on a real- live account using a smaller portion of your deposited money to better manage your risk throughout the learning curve.
When it comes to opening live trading accounts, traders should know that the most common types are:
1) Basic/Standard,
2) Advanced And
3) Pro/Expert,
where each provides different trading conditions such as: fees, minimum deposits, trading and analytics tools, etc.
Choice of trading account based on individual needs
Choosing the best account type will largely depend on the individual needs, financial situation, trading objectives, experience and expectations. If you are new and in the stage of testing the online trading waters, we always recommend some of the basic account types, but if you are ready to invest more from the start, your choice may fall on some of the premium options. Whichever way you go, worry not, as you can always switch between the accounts. In addition, for those traders who do not want to trade themselves, brokers may also offer the option of a so called managed account.
In our brokers section we have put a lot of attention into depicting and comparing the account types they provide, while the variety of trading accounts was one of the main factors based on which we have graded and rated them.
Step 3
Fulfilling Typical Account Opening Requirements
In general, the process of opening an online trading account is pretty straightforward. When doing it with a broker, it takes about 10-15 minutes and involves filling out a simple form. Some brokers will also need to confirm your identity, hence to help expedite the process, make sure you have these available:
POI – Proof of Identity which can be either a Driver's License or an ID card. Client usually provides the copy of the front and back side.
POR – Proof of Residence which can be either a utility bill or bank statement, not older than 3 months from the date of issue. This is required to verify the client's account.
Debit/Credit Card For Account Funding
Typically the information you will be providing includes, but is not limited to your: Name, Address, Email, Phone number, Account currency type, A password for your trading account, Date of birth, Country of citizenship, Social Security Number or Tax ID, Employment status, Annual Income etc.
The main reason why brokers will ask for this information in order to open the trading account for you is to comply with the law. In recent years and in the attempt to regulate the online trading market properly more regulations were put in place in order to provide higher levels of protection for the account holders. Hence if you encounter a broker that does not ask you the majority of these questions, you should double check if they are licensed and regulated.